I hope reading this article makes you hungry because it made me hungry just writing it. That's because I love a good hamburger like most people out there, and it's made even better with fresh venison you've harvested yourself. Plus, once you've ground up a whole cut, you'll have enough for meatballs, lasagna, chili and whatever other dishes you want to make delicious with your own ground meat.
Meat grinders are a great kitchen appliance for anyone, but they can really save a hunter time and money. If you love venison and love using it in as many recipes as you can, check out these seven grinders. They're all great options for hunters who want to grind their own meat, and they each have specific features that make them ideal for different situations. Below you can read up on the features to look for, then the specifics of each model. We've also compiled a list of the best meat grinders for deer for home and commercial use.
Before you grind you'll need to process the meat, which means a good blade or blade, checkout out this guide to the best knife for butchering deer if you want help with that.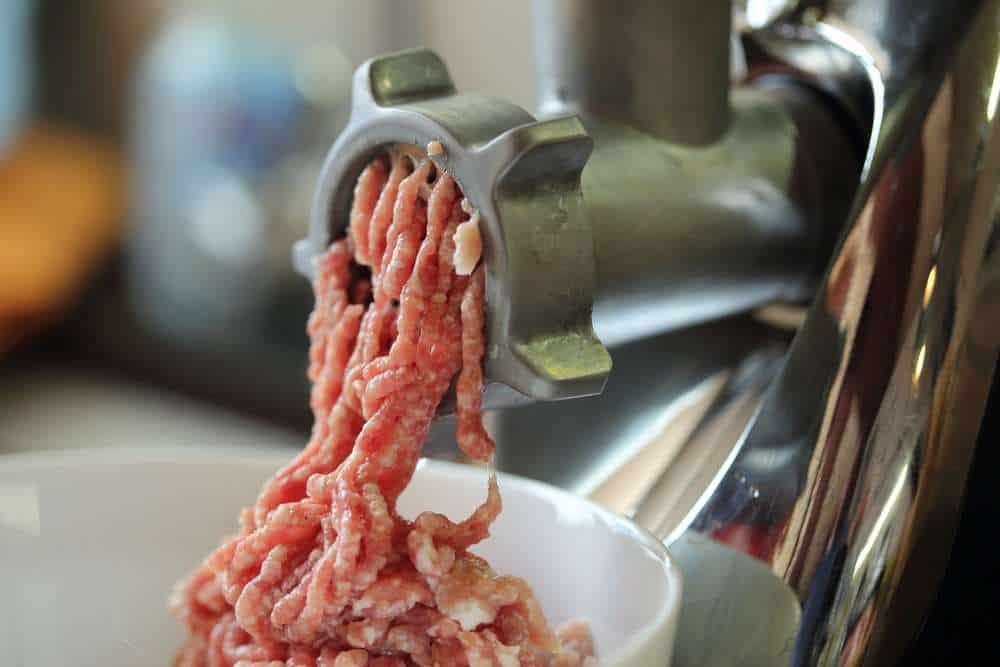 The Best Meat Grinder for Deer – Our Picks
All Grades

Home Kitchen Grade

Commercial Grade
Why grind venison?
One of the biggest benefits is the taste. Venison tastes good anyway, and grinding it at home means it's as fresh as possible. You can also use the cuts and quality of meat you want.
It's also cheaper. If you take your harvested deer to your local butcher, he's just going to put it through an electric meat grinder himself, and you'll have to pay him for it. It'll definitely be cheaper than buying your own ground beef or pork.
Plus, ground venison is a lot healthier than the ground meat you'd get at the supermarket. It's all natural and grass fed. You know exactly where it came from. No weird chemicals or antibiotics involved.

Finally, grinding venison makes it great for all different kinds of dishes. It stores easily, and it brings out the flavor. You can make everything from hamburgers to chili.
The nutritional benefits of venison
These days everyone is looking more carefully at what they eat. We've learned a lot more about nutritional science and what's good and bad for our bodies. Luckily for us hunters, venison isn't just the delicious reward from a successful hunt. It's a healthy and nutritious alternative to most of the other red meats on the market like beef and pork. Here's why.
Lean protein
Venison is rich in protein and low in fat. Unlike domesticated farm animals, deer spend their lives in the wild running, jumping and eating wild plants. As a result, they have a lot less fat stored in their bodies and a lot more muscle. That means a lean cut for you.
Low calories
Venison is mostly protein. With no carbs and little fat, it also has very little calories. This means your venison burgers are packed with nutrients but won't fatten you up.
Low sodium
Most red meats have a lot of sodium, part of what makes them bad for your heart. Venison, however, has very little.
Vitamins and minerals
Wild deer also eat a considerably more variable diet than farm animals. Plus, the venison you make is all-natural and untreated. Together, these make for a rich source of vitamins and minerals. Venison is especially high in B vitamins, zinc, phosphorus and iron.
Top Tips for Venison Grinding
What cuts?
Use the quarters for grinding as these will make the best ground meat. You want to save the loins and tenderloins for your grill.
Meat only
Try to remove everything you can that isn't raw muscle before sending it through the grinder. Of course, this means bone, but you also need to get as much of the silver skin and fat out as possible too. These usually add strange flavors and textures to your meat.
Grind it cold
Before you send the venison through the grinder, stick it in the freezer for about 30 minutes. This firms up the meat and makes it easier for the ginder to handle. Plus, it will prevent bacteria growth in the meat as you grind.
Add fat
It might seem silly. You just took the fat out. However, if you do it afterwards, you have a lot more control over the amount of fat and the consistency of the ground venison. In fact, you don't even have to add back in deer fat. For better taste, you can add pork fat or beef tallow. For hamburgers or similar dishes, you'll want that extra fat to add juice and flavor.
Grind it fresh
For best results, grind your meat right before you use it. When you grind meat, it creates a lot more surface area, which means a lot more room for bacteria. It's better to freeze steaks, thaw them out and grind as needed. 
If that's not feasible, make sure you store your ground venison really well. Go vacuum sealed to preserve your meat for as long as possible.
Grinders vs food processors
Like with most things, specialization makes food processing machines better.
You can definitely use a food processor to grind your venison. Many even come with meat grinding attachments, but these are designed for small batches. They're not made to handle the big cuts you pull off your trophy buck.
It won't just take longer. Most food processor motors are not equipped to handle that much, and the gears don't have the oil capacity to work effectively at that capacity.
They might work for grinding up a small cut of beef you get at the supermarket, but when it comes to venison, dedicated meat grinders are going to save you time and money.
Maintenance – Cleaning and sharpening the blades
Good meat grinders should be easy to take apart and put together. This is because you'll regularly need to open it up and clean and sharpen the blades, as well as other parts.
You want to sharpen your blades on tough sandpaper. Start with 500 grit and then move up to 1200. Move the blades over the paper in a circular motion.
A couple of tips. First, put a little water on the sandpaper. This helps remove the fine metal residue that you're shaving off. Second, mark all the blades with a Sharpie to make sure you sharpen them evenly.
Once you've sharpened the blades, you need to wash and sterilize them before using them again.
What to look for
A lot of the specs of meat grinders come down to your personal preferences and needs.
For example, the capacity you should look for depends on how much meat you plan on grinding. If you only plan on grinding one cut a season to make some burgers, meat grinders capable of processing hundreds of pounds per hour are overkill. On the other hand, if you use all your tags every season and grind most of the meat, a small, compact grinder is going to take forever, if it can even handle it.
Similarly, check the wattage. Higher wattage grinders have more power and can push through tougher cuts and potentially even the spare bone. Of course, they also use more electricity and are often louder. They can be unnecessary if you don't grind a lot.
You should also pay attention to how easy the grinder is to use and assemble. Some are so simple, you operate them with just a single switch. If you can take it apart easily, that also means you can clean and maintain it easily. Plus, you can store it away or move it without a problem.
A circuit breaker is also common on all quality grinders. These will cut the power to an overloaded (or stuck) motor to prevent it being damaged.
Finally, check the warranty. A long warranty lets you buy with confidence. More importantly, it means the manufacturer stands behind their product. They wouldn't back it if they weren't sure they'd built it with quality.
Commercial-grade grinders
Commercial-grade grinders are made for professional butchers and restaurant kitchens. They're designed to handle a lot of meat, and they're reliable. Consequently, they cost a lot more, and they're loud. If you process an industrial level of meat each year, it could be worth the investment.
Can you grind without a grinder?
You can actually make ground meat with as little as just a knife. Take lightly frozen meat and cut it into thin strips. Then just turn them the other way and cut them into even smaller cubes. Ideally, you want to cut it into as small as pieces as possible.
Of course, grinding your meat by hand takes a lot longer. It's also a lot more work. If you need to process a lot of meat, it's a daunting task.
Grinders with Multiple Grades
LEM Products Stainless Steel Big Bite
The Big Bite is available in four different versions, all varying by horsepower. All of them bring commercial-grade quality to a personal kitchen. 
For most hunters, we recommend the ¾ HP model. With this model, you get the most value for your money, and you should be able to handle multiple animals each year as well as helping out some of your friends. Just don't forget to take your cut.
Naturally, the 1.5 HP model can handle even more, but it comes at a much higher price. All have a brushed steel finish that minimizes fingerprints for a sleek, clean look on your kitchen counter. They also come with in-built circuit breaker protection for an overloaded motor.
Fitting with its commercial grade quality, the Big Bite has an extended auger to pull more meat in less time. Plus, the rifling pattern in the head pushes meat forward so you don't have to spend time doing it yourself. There's even an added tray for storing the knife and plate.
Lastly, with the LEM brand you also get a commitment to quality. This product comes with a five-year warranty and lifetime customer support so you can buy with confidence.
What we liked:
Four horsepower options
Brushed stainless steel
Extended auger
Circuit breaker
Rifling pattern
Five-year warranty
Lifetime customer support
What we didn't:
Only one grinding plate
Higher price range
Home Kitchen Grinder Reviews
Gourmia GMG525
The GMG525 is great for venison, but that's not the end of its capabilities. It makes a great appliance for anyone who loves the culinary arts. You can use it for any kind of meat to make a wide variety of dishes.
You can get the grinder in three wattage options: 500, 800 and 2200. You can decide what power you need based on your preferences and how often you plan to use it.
It also tops the list for its quality construction and materials. The body and blade are tough stainless steel powered by a copper motor, and it's backed by a one-year warranty. Because of the heavy-metal design, it is important that you wash the parts thoroughly before assembling the machine. Otherwise, the grinder may leave metal residue on the meat.
Despite its tough construction, the GMG525 is easy to use and assemble. You control the machine with four simple buttons, and it only takes a few minutes to put together.
You also get a variety of attachments so you can make all different kinds of food. The 2200 watt option even comes with a recipe book. If you like cooking as much as you do hunting, this grinder could serve you well.
What we liked:
Versatile culinary uses
Three wattage options
Quality stainless steel design
One-year warranty
Easy to use and assemble
Attachments and accessories
Downsides:
Requires cleaning to remove metal residue
STX International Turboforce II
It's easy to notice the quality craftsmanship behind the Turboforce II. It features five grinding plates made from tough tempered steel and three stainless steel cutting blades. STX must have a lot of faith in the durability of their machines because they give you a three-year guarantee with this one, and you can buy additional protection plans.

Another thing worth mentioning is the patented Quad Air Cooling system. This protects the motor and extends the life of the machine. If you plan to grind a lot of meat and for many years to come, consider buying a product with this type of longevity.

The only real downfall of this grinder is the high price tag, but you're paying for quality. Remember that it'll last a lot longer than similar grinders, so you'll probably still save money in the long run.

The Turboforce II comes with a lot of great accessories, too, including a foot pedal that makes operation a breeze. You can even choose between a black or white finish so it matches your other appliances.

What we liked:
Five tempered steel grinding plates
Stainless steel blades
Three-year guarantee
Quad Air Cooling
Durable and long lasting
Foot pedal
Choice of black or white
Cabela's Heavy Duty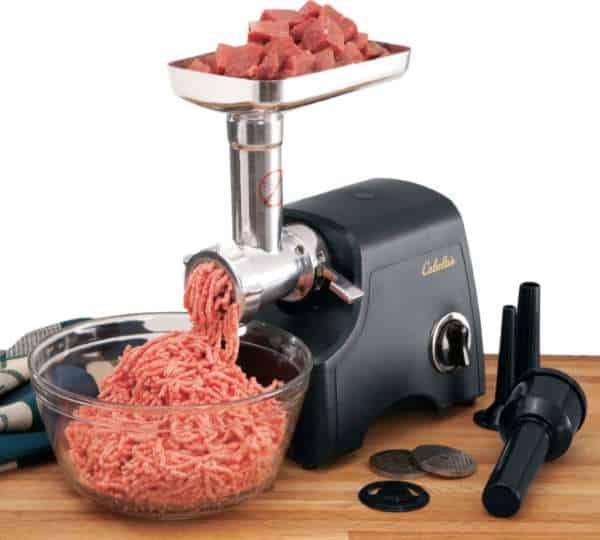 Because Cabela's specializes in the outdoors, their meat grinders are specifically designed for handling game meat like venison.
It's easy to use, so you don't have to be a wizard in the kitchen to get the most out of it. It features a three-way switch for grinding, stuffing or reverse.
Unfortunately, since it's made primarily for hunters, this product doesn't have a lot of versatility. It's got a low 400-watt motor and only two grinding plates: fine and medium. Because of this simple design, though, it comes at an affordable price. It's a good option for anyone whose main concern is hunting and just needs an easy way to process their meat afterward.
It also comes with great accessories, especially for venison. These include a stuffing funnel and star as well as a cover.
What we liked:
Designed for game
Easy to use
Three-way switch
Simple design
Low price range
Useful accessories
Downsides:
Low-wattage motor
Only two grinding plates
MeyKey Mincer
If you've got a tiny kitchen and all those venison cuts are already taking up too much space, here's a potential solution. MeyKey's meat grinders are small and compact. Better yet, it breaks down easily and is easy to assemble, so you can store it away or take it with you.
This is one of the best values on our list. It's got a really attractive price tag yet still features three grinding plates, a sausage attachment (for making sausage stuffing), a food pusher and other accessories. It comes with a one-year replacement warranty as well.
Like some other grinders, there could potentially be metal residue on the parts. You should wash the grinder before use. Luckily it's dishwasher safe, so that's no hassle.
This grinder is also easy to use and safe. You run the machine with three simple buttons, and the blades are totally enclosed keeping you protected.
What we liked:
Compact, portable design
Easy assembly
Great value
One-year replacement warranty
Dishwasher safe
Enclosed blades
Downsides:
Requires cleaning to remove metal residue
SunMile SM-G33
These meat grinders don't look very complicated, and it isn't. In fact, it only has one button, so it couldn't be easier to use.
If noise is a concern, it's a good option. It has well-designed ventilation that specifically keeps the noise low. It can still max out at a solid 800 watts.
It does seem like this grinder has a problem with clogging. It hasthree cutting plates, so if it clogs, you might need a larger-sized one. The motor also can move in reverse to unclog the machine.
The blade is stainless steel along with the casing and cutting plates. It also comes with a plastic food pusher and three different sausage attachments for those sausage stuffing enthusiasts.
What we liked:
One-switch operation
Low noise
Three cutting plates
Stainless steel
Three sausage attachments
Commercial Grade Grinder Reviews
Cabela's Carnivore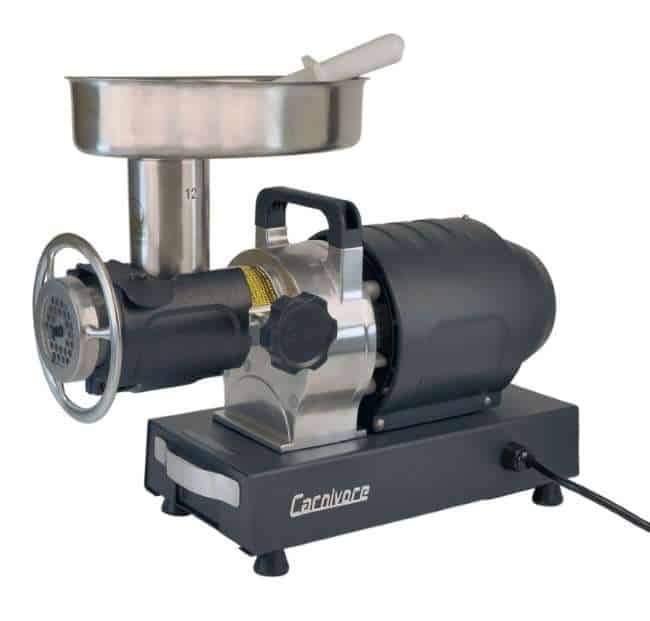 Besides a cool name, the Carnivore is well known in the outdoor community for its powerful grinding capabilities. It's a beast. Its heavy-duty one-horsepower motor can handle 11-13 lbs of meat per minute. Plus, it's just physically large. You can put big cuts in the hopper. Just don't hurt your back picking it up.
This grinder also has a special feature: the Cool-Tek Ice Pak. It's basically an ice pack that fits around the grinder head. This keeps the meat cold which helps maintain a consistent grind and prevent clogs.
Of course, this is a commercial-grade grinder. It's designed for butcher shops or other professional operations. If you hunt a lot and make a lot of ground venison, you can definitely benefit from its power.
It only comes with two grinding plates but otherwise has all the necessary accessories. It has three sausage funnels and a snack-stick funnel, and the simple operation switch is highlighted in yellow so it's easy to find.
Last but not least, Cabela's sells this product with a lifetime warranty.
What we liked:
One-horsepower motor
Grinds 11-13 lbs per minute
Cool-Tek Ice Pak
Useful accessories
One-switch operation
Lifetime warranty
Kitchener #8
This is a commercial-grade grinder with commercial-grade capacity. 480 lbs/hr that is. If you run a butcher shop or professional kitchen, this is great. It's also not a bad choice if you just have a big appetite. It's fitted with a circuit breaker to protect the motor if it gets overloaded.
Despite its industrial size, the #8 keeps quiet thanks to efficient air cooling.
Since it's designed to be used a lot, this grinder has a tough, durable design. The grinder head, auger, meat pan and housing are all stainless steel and rust proof even after numerous uses.
It's important to note that for a commercial-grade grinder, the wattage is kind of low on this model: 370W. This actually makes it a nice middle ground between large industrial grinders and smaller home grinders. That could be ideal if you plan on having a lot of meat to grind but don't need something too big and loud.
The #8 comes with plenty of accessories: two cutting plates, four stuffing tubes and a meat stomper. What's really cool is it even has a removable drawer for storing your accessories so you won't lose them.
What we liked:
480 lbs/hr capacity
Low noise
Efficient air cooling
Durable stainless steel design
Rust proof
Accessory drawer
Circuit breaker
Downsides:
Only two cutting plates
Low wattage